PHL chief says boosting aviation and energy sector is a priority
(Eagle News) — President Ferdinand Marcos Jr. has held a series of meetings with private US companies in New York, including senior managers of Boeing Aerospace, and two energy and fuel companies.
Marcus Jr. met with top executives at NuScale Power, a US energy company founded in 2007, and with WasteFuel, a California-based company that produces renewable fuels through proven technologies.
Next, he met with the executives of Boeing, a leading global airline that has been the number one manufacturer of commercial aircraft for decades.
The meetings were held on September 19, the day before his scheduled address to the United Nations General Assembly.
"We met with top executives from the US companies NuScale Power, WasteFuel and Boeing to discuss how we can work together to strengthen the aviation and energy sectors in the Philippines," President Marcus Jr. said in a Facebook post.
"We are committed to the administration's goal of sustainable development and hope that companies like them will help us achieve our goals for the well-being of our people," he said.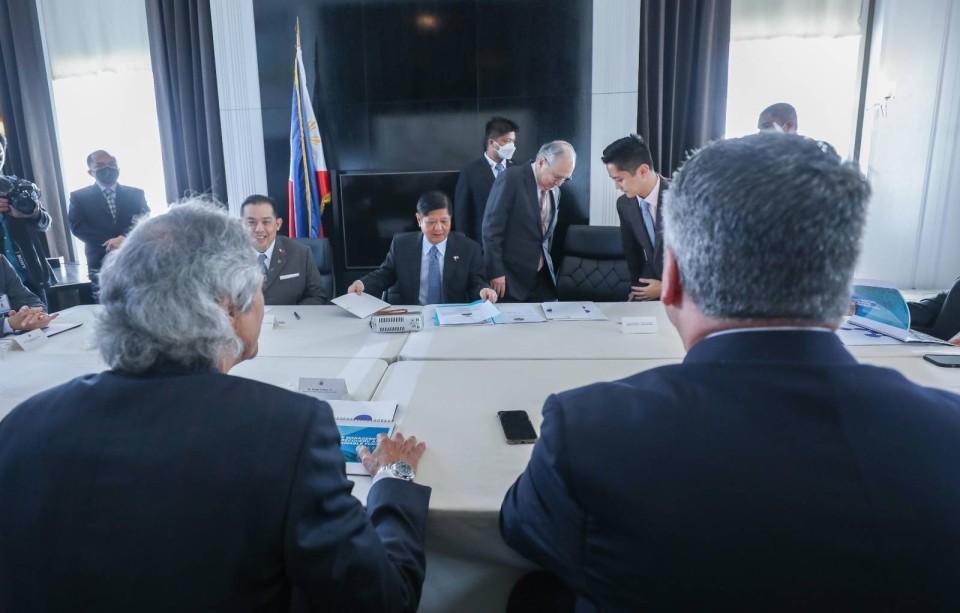 -supply PHL power needs-
Press Secretary to President Atti. Trixie Cruz-Angeles said that renewable energy and sustainable fuels are important to Marcus' management, and thus the meeting with the CEOs of these companies.
This is to provide the country's energy needs amid the expected rise in economic activity in the recovery efforts after the epidemic.
Angelis said efforts to seek out electricity and power supplies for the right business are a priority for the Marcos government.
"Your energy is one of the … energy providers As we mentioned, there are new, sustainable fuel companies that our president is talking about, and there are also renewable energy providers. So, don't worry, we are always thinking because energy is an essential part of transforming our economyShe said.
– Advanced scalable nuclear technology –
NuScale's mission, according to its website, is "to provide advanced, scalable nuclear technology to produce electricity, heat, and clean water to improve the quality of life for people around the world."
They are known for their NuScale VOYGR™ Small Reactor (SMR) Power Plants that "offer a scalable solution that includes improved safety, affordability, and expanded flexibility for diverse heat and electrical and process applications."
"NuScale's scalable design provides carbon-neutral energy benefits and reduces financial liabilities associated with gigawatt-sized nuclear facilities," NuScale said on its website.
Converting waste into renewable fuels
On the other hand, WasteFuel is a US company that "revolutionizes mobility and tackle climate emergencies by turning waste into renewable fuels using proven technologies," according to its website.
It is "addressing the waste crisis and the climate crisis to create a circular economy that will have a fundamental impact on how we view, value and treat waste – and how we harness its extraordinary power to mobilize in the 21st century."
She believes that "an important part of mobility by air, land and sea can be powered by our waste".
"WasteFuel uses proven and scalable technologies to convert municipal (garbage) and agricultural waste into low carbon fuels, renewable natural gas, and green methanol. We have developed innovative technology pathways to purposefully improve yields and further reduce emissions."
It is "the first project to be developed for jet fuel in the Philippines," Malacanang said.
President Marcus Jr.'s meeting with senior Boeing executives followed a meeting with energy companies.
Boeing has a long tradition of aviation leadership and innovation, and is the largest US exporter of aircraft aircraft.
To date, there are more than 10,000 Boeing commercial aircraft in service around the world.
In his State of the Nation address last July, the 65-year-old Philippine president pledged to seek solutions to solve the imbalance in energy demand and supply by looking to renewable and sustainable energy, as well as reconsidering the strategy towards building nuclear power plants in the Philippines.
"Currently, our demand for energy far exceeds our reliable supply. We must increase the level of energy production. We must consider every possible option that is suitable for the situation in the Philippines.
"There is scope to expand our current energy supply through existing energy sources, but that is only to a very limited extent. We must build new power plants. We must take advantage of the best technologies available now, especially in the areas of renewable energy," he added.
President Marcos Jr. said he will improve and utilize his business trip to the United States to attract foreign investment in the country and explore partnerships to improve the Philippine economy.
This is apart from his first appearance on the world stage through his participation in speaking at the opening of the 77th session of the United Nations General Assembly, which has the theme "A Watershed Moment: Transformative Solutions to Intertwined Challenges".
(Eagle News Service)